DocuClub NY: Patrimonio
DCTV, 87 Lafayette St, NYC
Doors 6:30pm | No admittance after 7:30pm
co-presented with IDA
Please join us for our first DCTV Presents even this Fall – a work-in-progress screening co-presented with International Documentary Association of directors/producers Lisa F. Jackson and Sarah Teale's Patrimonio.
Patrimonio is a character-driven verite portrait of a community rallying to protect its natural resources – a story of inspired activism as an unlikely group of fishermen takes on a multi-national giant, challenging their own government, denouncing corruption and demanding justice.
The film takes place in Todos Santos on the Pacific Coast of Baja California Sur, Mexico. The film's narrative arc tracks the town's burgeoning awareness through the eyes of Chayo Salvatierra, whose family has fished these hard waters for four generations, and attorney John Moreno, a surfer and environmental activist who takes on a life-altering cause.
Following the screening, we will be joined by Producer/Director Sarah Teale and Editor Pilar Rico for a feedback discussion moderated by Sue Williams.
Doors open at 6:30pm. Space is limited. Admission not guaranteed, all RSVP's are first-come, first-served.
RSVP
Connect
DocuClub NY is a regular collaboration between IDA and DCTV. This works-in-progress screening series offers the public and members of the film community advance access to new documentaries in progress, and the opportunity to participate in behind-the-scenes conversations with filmmakers and creators.
This event is a part of DCTV Presents, DCTV's signature screening and event series that highlights innovative and provocative work from the independent filmmaking community.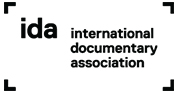 Supporters
DCTV is supported in part by public funds from the New York City Department of Cultural Affairs in partnership with the City Council, with the support of Council Member Margaret Chin. DCTV is also supported in part by the National Endowment for the Arts. DCTV is made possible by the New York State Council on the Arts with the support of Governor Andrew M. Cuomo and the New York State Legislature. DCTV is supported by the Manhattan Borough President, Gale Brewer.