DocuClub NY: Personal Statement
DCTV, 87 Lafayette St, NYC
Doors 6:30pm | No admittance after 7:30pm
co-presented with IDA
Please join us for the second installment of DocuClub NY 2017 with a work-in-progress screening of Juliane Dressner's Personal Statement.
Karoline, Christine and Enoch dream of becoming the first generation in their families to graduate college, but they are doing even more. They are working as college counselors in their under-resourced schools because many of their peers don't have the support they need to apply to college. Personal Statement is an observational, feature-length documentary that begins in the fall of senior year and follows these three into college. The film weaves their narratives, following their personal struggles, their college process and their work as college counselors. Karoline, Christine and Enoch are fighting to defy the odds not only for themselves, but for every single one of their classmates.
The Personal Statement creative team includes: Juliane Dressner (Director/Producer/Cinematographer), Edwin Martinez (Cinematographer/Editor), Kent Bassett (Editor), Martha Shane (Editor), Rikki Gunton (Additional Editor), T. Griffen (Composer), and Beth Levison (Consulting Producer).
Following the screening we will be joined by Juliane Dressner, Edwin Martinez, Beth Levison and Rikki Gunton for a discussion moderated by Theresa Navarrao.
Doors open at 6:30pm. Space is limited. Admission not guaranteed, all RSVP's are first-come, first-served.
RSVP
Connect
DocuClub NY is a regular collaboration between IDA and DCTV. This works-in-progress screening series offers the public and members of the film community advance access to new documentaries in progress, and the opportunity to participate in behind-the-scenes conversations with filmmakers and creators.
This event is a part of DCTV Presents, DCTV's signature screening and event series that highlights innovative and provocative work from the independent filmmaking community.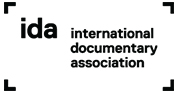 Supporters
DCTV is supported in part by public funds from the New York City Department of Cultural Affairs in partnership with the City Council, with the support of Council Member Margaret Chin. DCTV is also supported in part by the National Endowment for the Arts. DCTV is made possible by the New York State Council on the Arts with the support of Governor Andrew M. Cuomo and the New York State Legislature. DCTV is supported by the Manhattan Borough President, Gale Brewer.